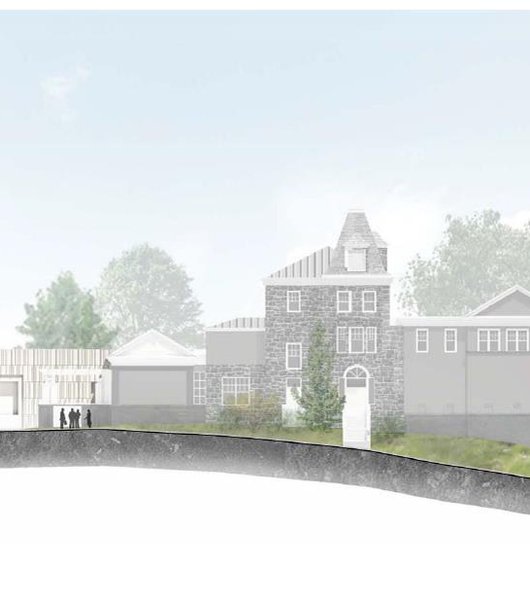 The Building Architect
Our approach to design seeks to concentrate the unique experience of a given context—be it physical, cultural and/or social—in ways that reveal the extraordinary in the ordinary. In this manner, we believe that architecture—as does art—can play a profound and potent role in shaping how we experience the world around us. Inspired by our experience exploring granite quarries in Guilford and Stony Creek along the Connecticut coast, the Bruce Museum draws inspiration from geology, a subject that has a rich history of scientific and technical exploration that has inspired many artists. The Bruce is conceived of as a stone monolith that is carved and excavated to create a monument that celebrates the geology of the site and its impact in shaping the culture of Connecticut, as well as creating a repository for exploring the complex relationships between art and science. The project is a renovation and addition to the existing structure, a private residence originally constructed in the 1850s but subsequently expanded and renovated numerous times, and the addition of a 40,000 square foot new wing providing expanded collection storage, permanent and changing art gallery space, and a new public entrance lobby and lecture hall for the museum.
The Bruce Museum, with its art and science galleries physically adjacent to one another and all under one roof, affords visitors the opportunity to easily move from one content gallery to another. This spatial arrangement offers opportunities that, from a curatorial aspect, more easily allow art and science exhibits to connect with and draw meaning from one another in a mutually supportive manner that can enhance understanding and learning. Our interest in this expansion for the Bruce Museum is drawn from a longstanding belief that art and architecture play an essential role in enriching the lives of those who experience them. Many of the artists that have provided inspiration for our own work have explored this intersection of art and science: Walter de Maria's Lightning Field, Nancy Holt's SunTunnels, and James Turrell's installations at Roden Crater, to name a few. All utilize their art to intensify experience as they reveal often unseen phenomena of science in visceral, powerful ways."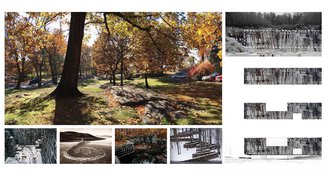 "The façade is simultaneously reminiscent of the stone fences built by New England farmers as they cleared their fields of rocks and boulders. As these differently sized and shaped stones were randomly stacked together, the resulting openness led to them being referred to as "lace walls." The design uses this treatment in various interventions to introduce diffuse natural light where desired for maximum effect."
"The intersection of art and science at the Bruce Museum offers us a powerful educational model—one that actively engages in the design and delivery of experiences that have the power to inspire and change the way people see the world as well as the possibility of their own lives—awakening us to, as philosopher Martin Heidegger, (1889–1976) states, "the magic of experience."
COLLABORATORS
REED HILDERBRANDSTONE , HARBOR LAND CO. GUY, NORDENSON AND ASSOCIATES, ALTIERI SEBOR WIEBOR, REDNISS MEAD, M. GOODWIN MUSEUM PLANNING , TURNER CONSTRUCTION CO.
Project summary above ©2019 Eskew Dumez Ripple - https://www.eskewdumezripple.com

Celebrating the emerging facade's striated design and its early inspiration: the coastal rock quarries of the Connecticut landscape.Read more…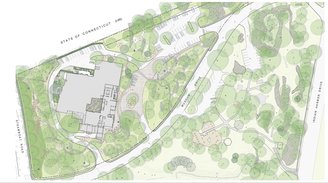 The Landscape Architects
"Our work aligns daily life with the visible phenomena and the invisible systems of nature. We give shape to land and the city, and in doing so we shape lives, build communities, reinvent institutions, and enrich urban neighborhoods. We see sites for what they are and what they might become. We create landscapes of cultural consequence."
REED HILDERBRAND
Douglas Reed and Gary Hilderbrand launched the firm in the mid-1990s to formalize years of close collaboration. Their vision of a design practice driven by investigative reason and speculative invention has drawn together a highly dedicated team of landscape architects, young designers, and staff. Based in Cambridge's Central Square, and operating with the expanded leadership of six principals, Reed Hilderbrand is engaged in diverse commissions—urban centers, museum landscapes, academic campuses, commercial developments, and private residences—throughout North America and in Europe. More than seventy design awards distinguish this growing body of work. ASLA named Reed Hilderbrand its 2013 Landscape Architecture Firm of the Year.
"We are as interested in what you can see as what you cannot. Many realms and scales of the invisible conspire to imbue meaning to a landscape. In varied proportions, these include what's beneath the surface, what came before, and what's behind the shapes or patterns, below the horizon, past our cone of vision—all beyond sight. Of these, the most provoking and potent is the indeterminate, the future. Even as we honor a site's design heritage or an urban neighborhood's ethos, we are aware of a responsibility to its future. We acknowledge the implications of rapid social transformations, climate change, and pressures to use resources wisely. Though our medium is often ephemeral, we approach landscape construction with an artisan's passion for fine craftsmanship and durability. We design for high performance. Always we aim to transcend a project's initial goals, to contribute enduring value to a community, and to enhance the value of our environment and our culture as a whole."
"Life offers its most ennobling experiences when we perceive a deep connection with our surroundings, whether at home, or work, or in recreation or play. Our work sharpens this perception, reveals things that you otherwise wouldn't see, and obscures what we choose to suppress in favor of that which we foreground. Our medium offers nearly infinite choices for how to engage a problem; we narrow those choices through abstraction, analysis, iteration, and informed intuition. The precedents we call upon endow our work with cultural continuity and frame significant achievements in humanist terms. We exploit nature's phenomena and amplify its natural systems. From the kinetic dynamism of an urban plaza to the intimate sanctuary of a wildlife observatory, our works come to life for today and for generations to come."