Location: 55 E Kings Hwy, Chester, CT 06412
Congregation Beth Shalom Rodfe Zedek is accessible during normal operating hours on the weekdays, 9am-4pm; please call the office in advance at 860-526-8920 to schedule a visit.
Congregation Beth Shalom Interior dome - CREDIT Robert Benson Photography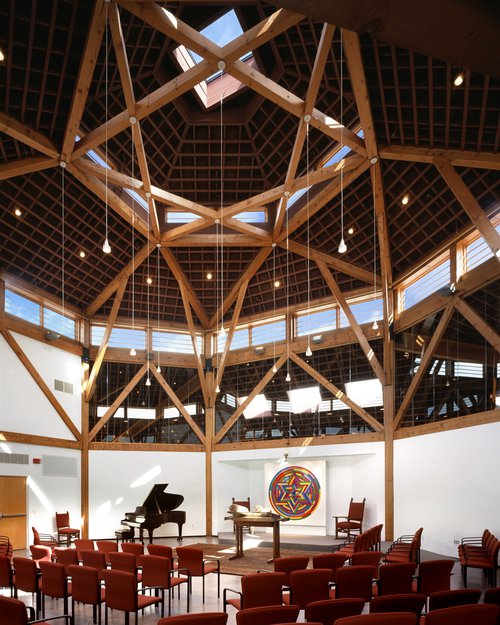 Congregation Beth Sholom Rodfe Zedek, Robert Benson Photography
Description:
In the 1990s, LeWitt's local congregation, Congregation Beth Shalom Rodfe Zedek in Chester, Connecticut, invited him to design a new synagogue building. Working with architect Stephen Lloyd, LeWitt took inspiration from the traditional building techniques of Eastern European synagogues, most of which the Nazi party destroyed during World War II. The synagogue features a clapboard exterior. The synagogue building's interior includes an octagonal-shaped sanctuary, where services are held, with an exposed post and beam timber construction style above it that goes up two stories and forms a six-point star at the top.
Mounted in the back of the bima, an elevated platform where the Torah is read during services, is the Ark, considered the holiest spot in a synagogue. The exterior of the Ark is adorned with a colorful six-point star, a reference to the Star of David. The colorful six-pointed star is LeWitt's first known use of the colorful broken bands he integrated into many of his later pieces. The Ark has sliding doors that open to reveal five Torah scrolls, handwritten copies of the first five books of the Hebrew Bible.