Brooks
September 18, 2021 – January 2, 2022
The Bruce Museum of Greenwich Connecticut is pleased to announce the gift of six Tang Dynasty ceramics from the collection of Fred and Jane Brooks of Greenwich. This generous gift and the promise of additional donations from the collection establish the Bruce as an important center for the collecting and study of Chinese antiquities.
Highlights of the gift include a dramatically animated, tri-color glazed ceramic Lokapala, or worldly protector, one of the deities who rule the directions of space according to Hinduism and Vajrayana Buddhism. All of the donated works date from the Tang Dynasty (618 – 907 A.D.), which is regarded as one of the greatest periods of artistic creativity in China. In addition to the Lokapala, the gift also includes several ceramic Bactrian camels, some of which are decorated with bright clear glazes and brilliant colors including cobalt blue. The Silk Road between China and the Middle East passed through Bactria and their camels were used to ferry people and goods. Camels were often included as funerary sculpture to ensure that the deceased enjoyed the pleasures of life on earth in the hereafter. While the practice of tri-color glazing had already been developed in the Han Dynasty (206 B.C. – 220 A.D.), it came to its greatest fruition in the Tang period.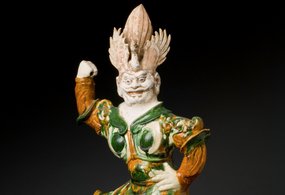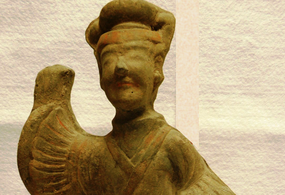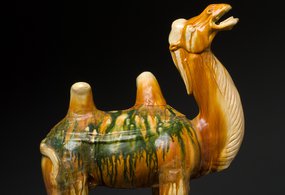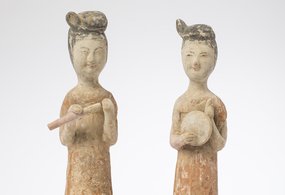 The new donations will go on view on March 7 in the Museum together with two other outstanding, colorful Lokapalas that are part of the promised gifts from the Brooks Collection. Executive Director of the Bruce Museum, Peter Sutton, hailed the gift as "an exciting new chapter in the formation of a distinguished permanent collection that reflects all world cultures." Fred Brooks added that he hoped his example would be an inspiration to others, "attracting donations that will distinguish the Bruce as a destination museum for the study of Chinese art." And Sutton reminded all the residents of Greenwich to take special pride in this gift since the permanent collections of the Bruce Museum become the collective property of the citizens of the Town.