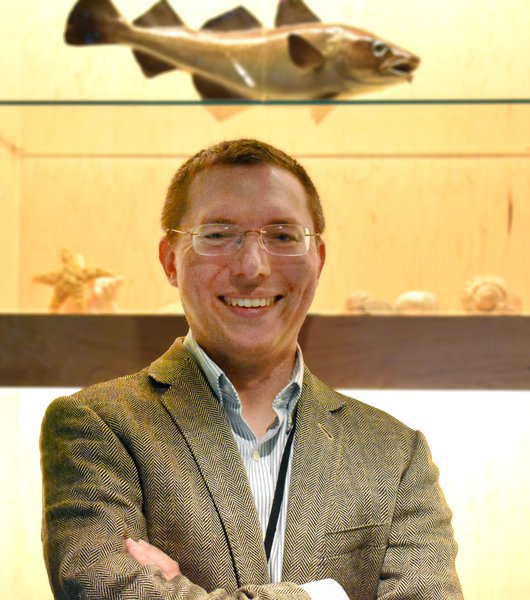 Bruce Presents: Monsters, Mermaids, and other Hoaxes – With Dr. Daniel Ksepka
Thursday, October 26, 2023, 6:00-7:30 PM
Who is Bigfoot? Where does the FeeJee mermaid come from? You'll find the answers to these questions (and more) during Bruce Presents: Monsters, Mermaids, and other Hoaxes, led by the Bruce Museum's very own Curator of Science, Dr. Daniel Ksepka. Embark on an engaging and enlightening journey into the fascinating world of scientific hoaxes, where fact and fiction blur, and the pursuit of knowledge can sometimes take unexpected turns. In this captivating lecture, our esteemed curator will guide you through a selection of infamous scientific hoaxes, delve into some of history's most audacious and astonishing instances of scientific trickery, and reveal the intricate web of motives, methods, and consequences that have shaped our understanding of knowledge and truth. This program includes an audience Q&A following the presentation.
About Dr. Ksepka:
Dr. Daniel T. Ksepka graduated magna cum laude from Rutgers University and earned his PhD at Columbia University in 2007. He taught completed a fellowship at the National Evolutionary Synthesis Center before joining the Bruce Museum in 2014. Now serving as Curator of Science at the Bruce, Ksepka also holds Research Associate appointments at the American Museum of Natural History and Field Museum of Natural History, as well as an adjunct faculty appointment at the University of Connecticut.

At the Bruce Museum, Dr. Ksepka has worked to expand the natural history collections by securing scientifically important and display-worthy specimens including the McDonald Jurassic Fossil Collection, the Robert R. Wiener Mineral Collection, and the Bruce Museum polar bear. He recently oversaw the new permanent natural history exhibition Nature Cycles Shape Our Land and is currently planning the installation of the permanent Robert R. Wiener Mineral Galley and the first rotating science exhibition in the New Bruce, Penguins! Past and Present.

Support for Bruce Presents is generously provided by Berkley One, a Berkley Company.
Space is limited. Online registration required.
Cost: Adults - $25, Livestream $25, Students - $15 / Members FREE