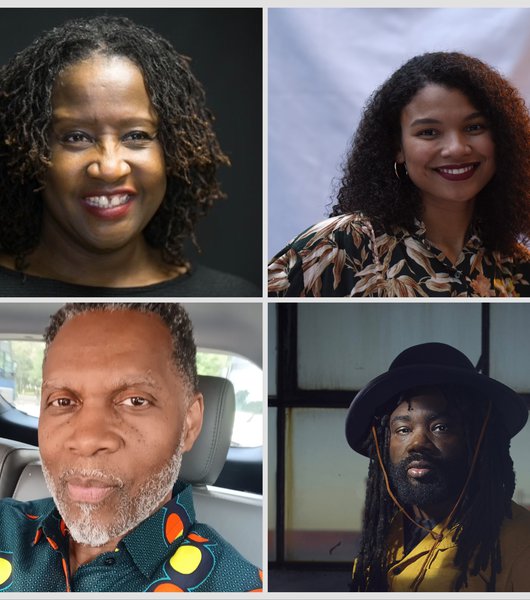 Bruce Presents: Recovering Histories and Reshaping Identity – Exploring Contemporary Black Artistry in Connecticut
Thursday, September 14 2023, 6:00 pm.– 7:30 pm, in the Gale and Robert H. Lawrence, Jr., and Pamela and Robert Goergen Auditorium
In this installment of Bruce Presents, audiences will delve into the work of three Black contemporary artists based in Connecticut. The work of these artists spans across various mediums, including photography, performance, and storytelling. During this program, our panel will discuss how each artist critically engages with the past and present within their own practice, and the histories that tie them to the region. Presented in conjunction with our inaugural exhibition in the Barbara and Edward Netter Foundation Gallery, this program is moderated by Adria Gunter, guest curator for the Bruce Museum's exhibition Then Is Now: Contemporary Black Art in America.
Support for Bruce Presents is generously provided by Berkley One, a Berkley Company.
Space is limited. Online registration required.
Cost: Adults - $25, Students/ Educators - $15, Members FREE
Cost: Live Stream - $25, Members FREE
About this panel:
Adria Gunter is an art history master's student at Hunter College with a focus on modern and contemporary African diasporic art, art history, and material culture. Her current research explores the Southern United States and the Anglophone Caribbean as interconnected sites of Black creative production. As a curatorial research associate at the Bruce Museum, she co-organized Then Is Now: Contemporary Black Art in America and is currently helping organize the museum's upcoming exhibition, Tracing Lineage: Abstraction and its Aftermath. Prior to the Bruce Museum, Adria provided curatorial support at the Whitney Museum of American Art and served as the curatorial assistant at the Nasher Museum of Art at Duke University.
Merik Goma (b. 1987, in Manistee, MI) is a New Haven-based photographer, Goma's practice involves building tableaux with spatially and temporally ambiguous narrative constructs populated most often by a single protagonist. With close attention paid to color and lighting, the images captured within Goma's meticulously assembled sets become psychological vessels charged inexplicably with both stillness and yearning.  Merik is an alumni of the NXTHVN Studio Fellowship Program. His work has been shown by Tilton Gallery, and is in the collection of 21C Museum, Yale University Art Gallery, and the Detroit Institute of Art. Goma represented Connecticut in the New England Triennial at DeCordova Museum, is a FY21 Connecticut Artistic Excellence award recipient and was selected as the Joyce C. Willis Artist in Residence by the Amistad Center for Arts & Culture at the Wadsworth. 
Andre Keitt, the Greatheart Griot felt a strong connection to the cultural arts from an early age and says that storytelling is "in his blood". His beloved grandmother Martha Greatheart Thompson, "Mama Thompson," told him stories that he uses today in his tale telling. Mr. Keitt received a Bachelors-of-Arts in English from the South Carolina State University and worked doing outreach, marketing, writing, teaching and performance arts for such places as the Hartford Public Library, the Dallas Public Library, the Greater Hartford Arts Council, the Bushnell Memorial Performance Hall, the Hartford Stage Company and the Hartford Symphony Orchestra. Serving as the Artistic Director for Journey Writers, Inc., Andre also facilitates discussions and performs storytelling for The Connecticut Humanities Council's kid  program, Book Voyagers, where he opens the doors of art & culture, to diverse peoples and places near and far. Andre created his virtual Kamp Kitt, Kwanzaa and Celebration of Light programs for kids and families, stuck at home during the pandemic. He facilitates storytelling workshops for adults,  children and the community alike!  Currently Andre is serving as the Program and Education Consultant with the Farmington Historical Society.
Tammy Denease is an accomplished Performing Artist, Storyteller, Actor, and Playwright. Tammy specializes in bringing to life the lives of very important, yet "hidden" women in history. Among her favorites are Bessie Coleman (first internationally licensed pilot in the world) and Elizabeth Keckly (former enslaved woman who worked at Lincoln's White House), Margu (Amistad captive) and Elizabeth "MumBet" Freeman – one minute a free woman. Tammy performs at historical sites, libraries, schools, theaters, and corporate events. When Tammy is not bringing historical figures to life, she vividly tells folktales where she takes the audience into a world in which animals set the scene for life lessons!