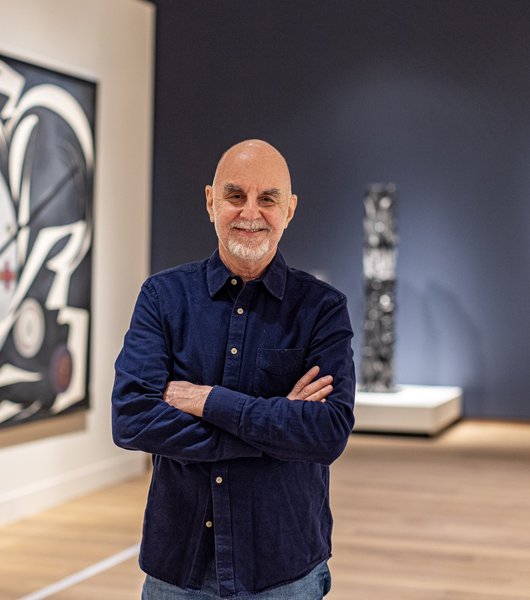 Bruce Presents: Thoughts on Curating Connecticut Modern with Dr. Kenneth Silver
Thursday, December 14, 2023, 6:00-7:30 pm, The Gale and Robert H. Lawrence, Jr., and Pamela and Robert Goergen Auditorium
For three decades in the twentieth century, Connecticut was an international center for innovation in the arts. The exhibition Connecticut Modern: Art, Design, and the Avant-Garde, 1930–1960, on view now at the Bruce Museum, sheds light onto this significant period in the history of 20th century modernism.
Join the Bruce Museum's Adjunct Curator, Dr. Kenneth E. Silver, during Bruce Presents: Thoughts on Curating Connecticut Modern, to learn more about this groundbreaking exhibition. Discover the unconventional and experimental works that emerged from within Connecticut's artistic community. Explore the lives and stories of the remarkable individuals, artists, and designers who called Connecticut home during this time, and learn about the collaborations, artistic circles, and creative ferment that characterized this vibrant artistic hub.
Bruce Presents: Thoughts on Curating Connecticut Modern will take place on Thursday, December 14th from 6:00-7:30 pm EST in the Gale and Robert H. Lawrence, Jr., and Pamela and Robert Goergen Auditorium. This event will be livestreamed.
Support for Bruce Presents is generously provided by Berkley One, a Berkley Company.
Space is limited. Online registration required.
Cost: Adults - $25, Livestream-$25, Students - $15 / Members $20
Members receive a 20% discount on their ticket. Members of the Bruce Adventurer's Circle, Bruce Curator's Circle, Bruce Visionary Circle, Complimentary Bruce Adventurer's Circle, Complimentary Bruce Curator's Circle, Founding Bruce Adventurer's Circle, Founding Bruce Curator's Circle, Founding Bruce Visionary Circle receive 2 free tickets to public programs.
About Dr. Silver:
Kenneth E. Silver is Silver Professor of Art History, New York University, where he received his Bachelor's Degree. Silver received his M.A. and Ph.D. at Yale, and has taught there, as well as at Vassar and Columbia. For his book, Esprit de Corps: The Art of the Parisian Avant-Garde and the First World War, 1914-1925 (Princeton University Press and Thames & Hudson, 1989), Silver won the Charles Rufus Morey Award of the College Art Association and the "Prix du Livre," from Beaux-Arts magazine, Paris, for its French translation, Vers le retour à l'ordre (Editions Flammarion, 1991). Silver has been the recipient of a National Endowment for the Humanities Fellowship, and an American Council of Learned Societies Grant; he has also been a Getty Research Institute Visiting Scholar and a Mellon-Getty Fellow at the Phillips Collection (Washington, D.C.). Silver is a Contributing Editor of Art for America magazine and is the Adjunct Curator of Art at the Bruce Museum (Greenwich, Connecticut).
Silver was Guest Curator, the Guggenheim Museum, New York, for Chaos and Classicism: Art in France, Italy and Germany, 1918-1936, Oct 1, 2010-Jan 9, 2011, and at the Museo Guggenheim, Bilbo: Feb 21-May 5, 2010, which won an International Association of Art Critic's Award. Chaos and Classicism was named best art exhibition of 2010 by New York Magazine (Jerry Saltz), and its catalogue chosen as one of 100 Notable Books of 2010 in the Times Literary Supplement (Mary Beard).
An authority on both European and American modern art, and an active guest-curator, Silver is the author of numerous books and exhibition catalogues, including Paris Portraits: Artists, Friends, and Lovers (Bruce Museum/Yale University Press, 2008); Making Paradise: Art, Modernity and the Myth of the French Riviera (MIT Press, 2000); Fernand Léger: A Survey of Iconic Work (Editions Assouline, 2012); and David Hockney (Rizzoli, 1994). He has co-curated a series of exhibitions and co-authored the accompanying catalogues at New York's Jewish Museum: The Circle of Montparnasse: Jewish Artists in Paris, 1905-1945 (Universe Books/Rizzoli), with Romy Golan, which won a Henry Allen Moe Prize; An Expressionist in Paris: The Paintings of Chaim Soutine (Prestel Publishers), with Norman Kleeblatt, which won an International Association of Art Critics award; and, with Carol Ockman, Sarah Bernhardt: The Art of High Drama (Yale University Press), which won the Victorian Society of America Best Exhibition and Catalogue Award for 2007. Silver was a contributor to the exhibition catalogue edited by Emily Braun and Rebecca Rabinow: Cubism: The Leonard A. Lauder Cubist Collection (New York: The Metropolitan Museum of Art, 2014) and is the author of Walls of Color: The Murals of Hans Hofmann (Bruce Museum, 2015) and Summer with the Averys: Milton/Sally/March (Bruce Museum, 2019). His essay "Afterlife: The Important and Sometimes Embarrassing Links Between Occultism and the Development of Abstract Art, ca. 1909-1913" appeared in the catalogue for Vivien Greene's Guggenheim Museum exhibition of 2017, Mystical Symbolism: The Salon de la Rose+Croix and his "Homo Erectus and His Discontents," was published in Jarrett Earnest's catalogue, The Young and Evil: Queer Modernism in New York, 1930-1955 (David Zwirner Books).
In recognition of his contributions to the dissemination of the art and culture of France, Silver was named a Chevalier of the Order of Arts & Letters by the French government in the spring of 2010.