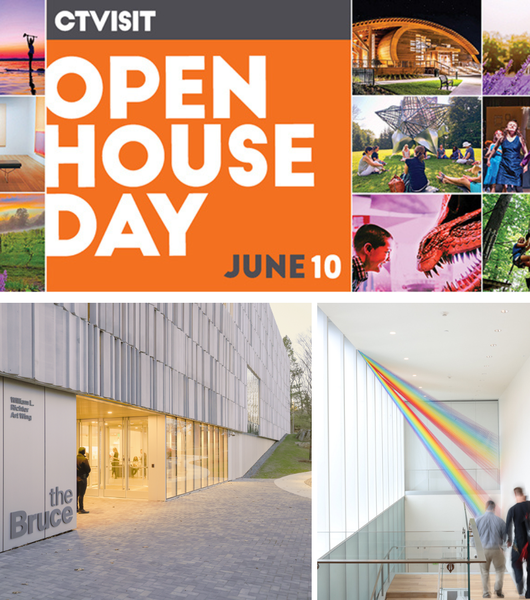 Connecticut Open House Day!
Free admission day – June 10, 2023, 10:00 am-5:00 pm
Please join us from 9 am until 5pm as we celebrate Connecticut Open House Day with FREE ADMISSION all day! Now in its 19th year, Connecticut Open House Day is an annual event held on the second Saturday of June. Its purpose is to inspire Connecticut residents to learn about all of the tremendous the experiences they can enjoy in their own backyard, anticipating that this will convert them into ambassadors who will recommend these experiences to other visitors.
We look forward to seeing you and sharing our beautiful Museum with you on Open House Day!
The weekend of June 10 and June 11, 2023 is the Bruce Summer Block Party: Saturday and Sunday, June 10th and 11th, 10AM – 4PM
Curious about what's going on at the Bruce Museum?
Join us for the start of summer at the Bruce Summer Block Party.  The Block Party is a fun-filled weekend with plenty of activities and events hosted by our museum educators and our community partners. Each day from 10am-4pm there will be an exciting schedule of hands-on activities in the galleries and workshops, animal performances in the auditorium and surprises around every corner. Admission is free for all visitors during the Community Day, we encourage you to bring the whole family!
The full schedule of activities will be posted here on May 22, 2023.
Select your ticket date and time, for Saturday, June 10, or Sunday, June 11, to sign up for a free admission ticket.
Bruce Feria del Verano
Sábado y Domingo el 10 y 11 de Junio 10 AM - 4 PM
¿Interesados en que está pasando en el Bruce?
¡Reunite con nosotros para celebrar el comienzo del verano! La feria del verano del Bruce ocurrirá durante el fin de semana de 10 AM hasta 4 PM y tendrá actividades y eventos organizados por nuestros educadores y amigos de la comunidad. La admisión al museo es gratis durante este fin de semana y toda la familia es bienvenida.
El horario de actividades será publicado el 22 de Mayo en brucemuseum.org
Para recibir sus boletos gratuitos para admisión, seleccione la fecha y hora de su visita el sábado 10 de junio o domingo 11 de junio.