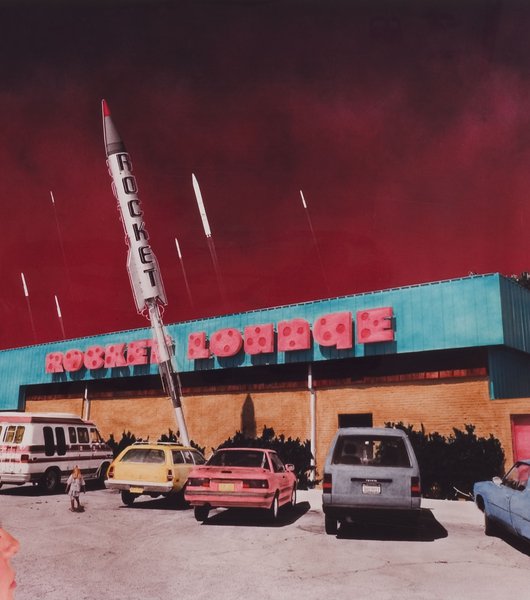 Patrick Nagatani: Chain Reaction
May 1, 2021 - August 1, 2021
The exhibition will feature the entire Nuclear Enchantment series, a powerful group of photographs made between 1988 and 1993 that deal with the history of nuclear weapons development in New Mexico, as well as the effects of this industry on the people and places there.
Born in Chicago on August 19, 1945, a little over a month after the first atomic blast at Alamogordo, and less than two weeks after the bombings in Japan, artist Patrick Nagatani (American, 1945-2017) was a true child of the nuclear age. His parents and grandfather had been placed in internment camps during WWII, and his father's family came from outside of Hiroshima. Due to this complicated personal history, the advent and fallout of the Atomic Era would prove particularly resonant subjects for the artist throughout his career. Originally planned for August 2020, the exhibition was intended to coincide with the 75th anniversary of the U.S. bombings of the Japanese cities of Hiroshima and Nagasaki, but was delayed due to the Covid-19 pandemic.
While living and working in L.A. in the 1970s and 1980s, Nagatani began a collaboration with artist Andrée Tracey which would prove immensely fruitful. The two staged elaborate scenarios before a large format 20 x 24 Polaroid camera, including painted backdrops, cardboard cut-outs, three-dimensional props and sets, and live actors. Employing a hybrid approach that drew from photography, painting, installation, and performance, the works dealt with the subject of nuclear apocalypse, but in irreverent and unexpected ways. After moving to Albuquerque in 1987, Nagatani became fascinated by the jarring juxtaposition of the military-industrial complex and the southwest landscape–the Oscura Mountains, which contain Precambrian rocks, forming the backdrop to the Trinity test site memorial. This fascination laid the foundation for the Nuclear Enchantment series.
Consisting of 40 photographs, the series presents a politicized intervention as Nagatani again uses a hybrid method to construct multilayered and wildly imaginative images that unsettle our understanding of this complex time and place in U.S. history. He overlays pictures of ancient symbols and figures from Japanese and Native American culture on hand-painted photographs of actual uranium mining facilities or contaminated deposit sites. He re-photographs the scene to create a final image of visual discord that speaks to this complexity, eschewing straight or facile interpretations. At once harrowing and humorous, these artworks participate in the ongoing and ever-relevant debate weighing the benefits of scientific and technological progress against the preservation of cultural history and the natural world. The exhibition will also feature artifacts from the Bruce Museum historical collection, including Native American objects, as well as a Soviet-issued gas mask and Geiger counter, echoing the dissonance that the photographs create, and enhancing the exhibition experience for museum visitors.