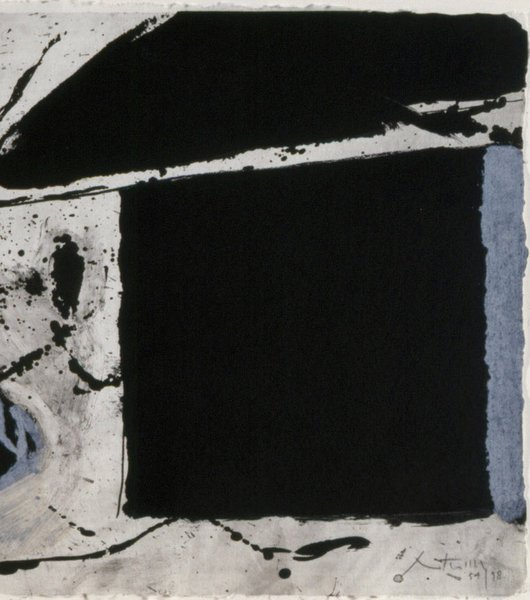 Robert Motherwell and Multiplicity
September 23, 2023–December 3, 2023, Vicki Netter Fitzgerald Gallery
Robert Motherwell (American, 1915–1991) is best known for the defining role he played in the history of postwar American painting. Motherwell cultivated a principled approach to abstraction based on his belief that "every aesthetic decision is ultimately ethical in origin." His most famous series of chiefly black-and-white abstract compositions known as the Elegies to the Spanish Republic was prompted by the historical trauma of the Spanish Civil War.
Considering his life-long dedication to painting, it is perhaps surprising that Motherwell was also one of the most prolific printmakers of the twentieth century. In this inherently collaborative endeavor, he made many hundreds of print editions that saw his painterly marks and gestures multiply and proliferate. Beginning in earnest during the 1960s, Motherwell's engagement with printmaking deepened when he established a dedicated studio for this purpose in his Connecticut home during the early 1970s, and it extended throughout the remainder of his career.
Presenting approximately 30 drawings, collages, prints, and print folios from the Bruce Museum's permanent collection, along with works on loan from the Dedalus Foundation and Kasmin Gallery, this exhibition explores the deep significance of multiplicity across Motherwell's artistic practice. This highly conceptual exploration spanned his practice, including unique works that incorporated processes like rubbing, tracing, and enlargement. For instance, Motherwell recorded the texture of his hotel room walls in a set of rubbings during his 1958 honeymoon with Helen Frankenthaler in Madrid. This direct registration of a surface, by hand, eventually served as the conceptual basis for a folio of ten lithographs known as the Madrid Suite, which Motherwell produced with the Hollander Workshop, New York in 1965. Through his collaborations with a range of print studios in the United States and abroad, Motherwell embraced printmaking as a particularly fruitful arena for producing overlaps and confrontations with other media, using lithography and intaglio printing, and illustrating narrative text and poetry as well as creating prints based on his works in other media.
Three years after he moved to Greenwich, Connecticut in 1970, building on his successful projects with Hollander and Tatyana Grosman's fine art print studio Universal Limited Art Editions (ULAE) in West Islip, Long Island, Motherwell began working with the master printmaker Catherine Mosley on his own intaglio print editions. At the same time, he worked with Kenneth Tyler at Gemini G.E.L., Los Angeles and later at Tyler Graphics in Bedford, New York to explore lithographic processes. In the latter works, he made use of photographic techniques to reproduce and enlarge found printed material, such as cigarette labels, which he incorporated into his collage practice as well as his prints. While Motherwell persisted in his exploration of a wide range of imagery, including his Elegies series, he also embraced the inventions of historical modern and avant-garde art movements, from the use of found materials to reductive compositional strategies such as the monochrome compositions of his Opens series. For Motherwell, printmaking became a tool to probe the limits and possibilities of his practice, transforming his work in painting, drawing, and collage.
Robert Motherwell and Multiplicity is guest curated by Dr. Jennifer Cohen, Director of Curatorial Affairs, Dalí Museum.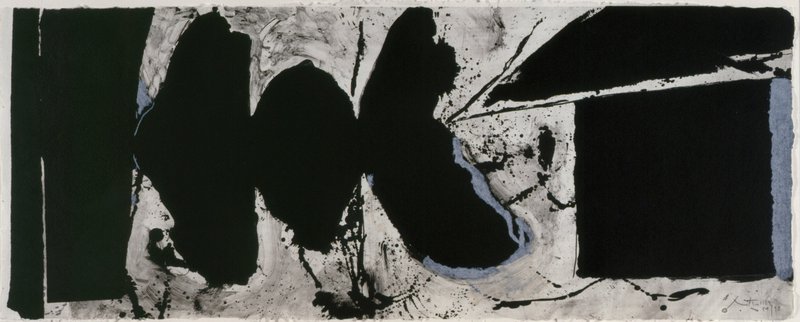 Robert Motherwell (American, 1915–1991)
Elegy Black Black, 1983
Lithograph, 54 / 98 , 15 x 37 ¾ in.
Bruce Museum, Gift of Mr. and Mrs. Alfred Brittain III, 98.11
© 2023 Dedalus Foundation, Inc. / Licensed by Artists Rights Society (ARS), NY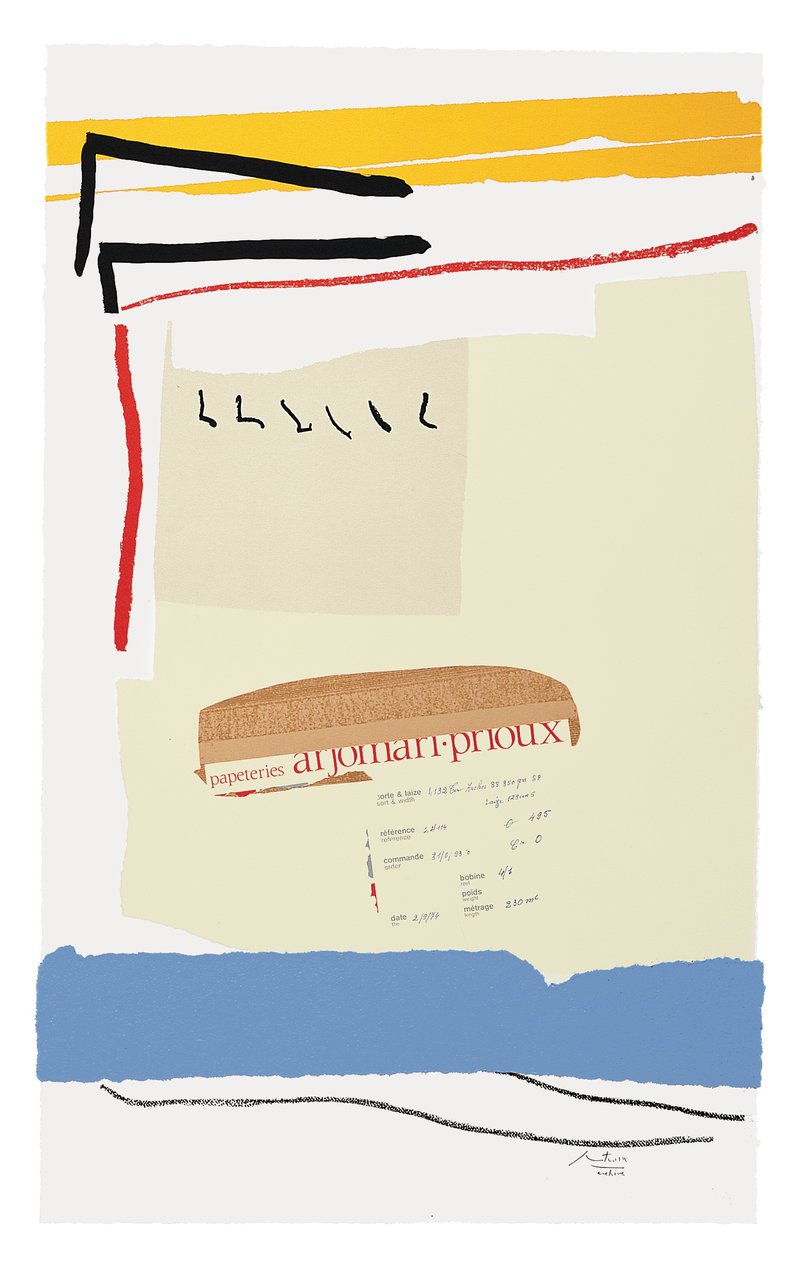 Robert Motherwell (American, 1915–1991
America––La France Variations III, 1984
Color lithograph, 48 / 70, 48 x 30 ¾ in.
Bruce Museum, Purchased with funds donated by Homer and Coverly Rees, 2001.03
© 2023 Dedalus Foundation, Inc. / Licensed by Artists Rights Society (ARS), NY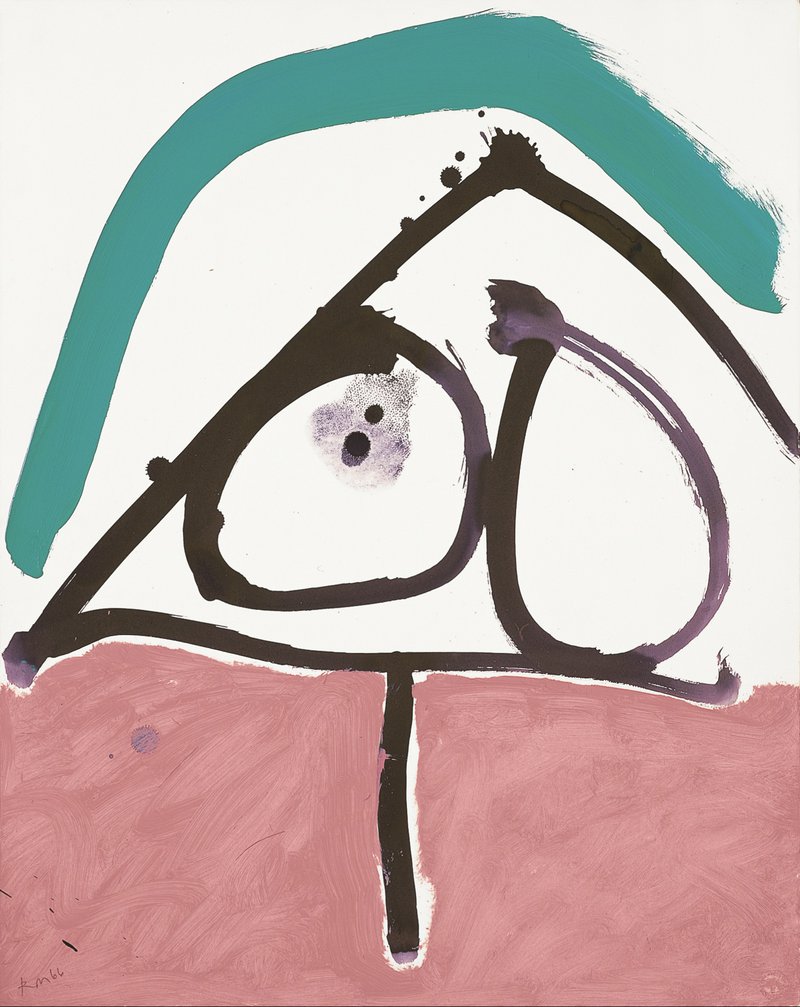 Robert Motherwell (American, 1915–1991)
Madrid Image with Green Stripe, 1966
Acrylic and watercolor on paper, 29 x 23 in. 
Dedalus Foundation, New York
© 2023 Dedalus Foundation, Inc. / Licensed by Artists Rights Society (ARS), NY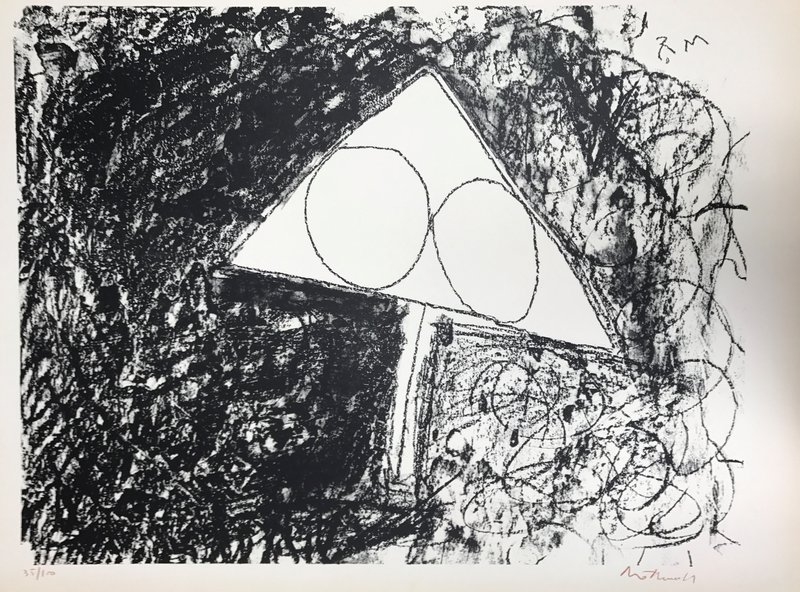 Robert Motherwell (American, 1915–1991)
Madrid Suite, 1965–66
Lithograph on paper, 35 / 100, 22 x 30 in.
Bruce Museum, Purchase, 2001.04.03
© 2023 Dedalus Foundation, Inc. / Licensed by Artists Rights Society (ARS), NY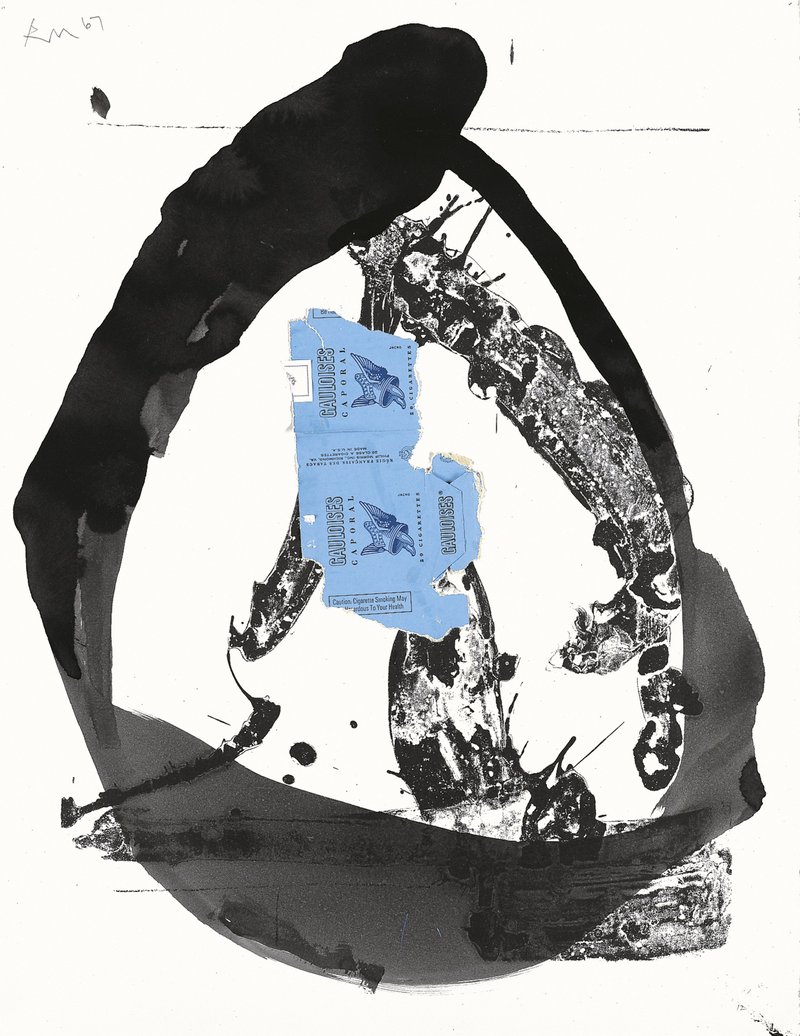 Robert Motherwell (American, 1915–1991)
Untitled (Black Gesture with Gauloises), 1967
Pasted paper and ink on paper, 22 x 17 in.
Dedalus Foundation, New York
© 2023 Dedalus Foundation, Inc. / Licensed by Artists Rights Society (ARS), NY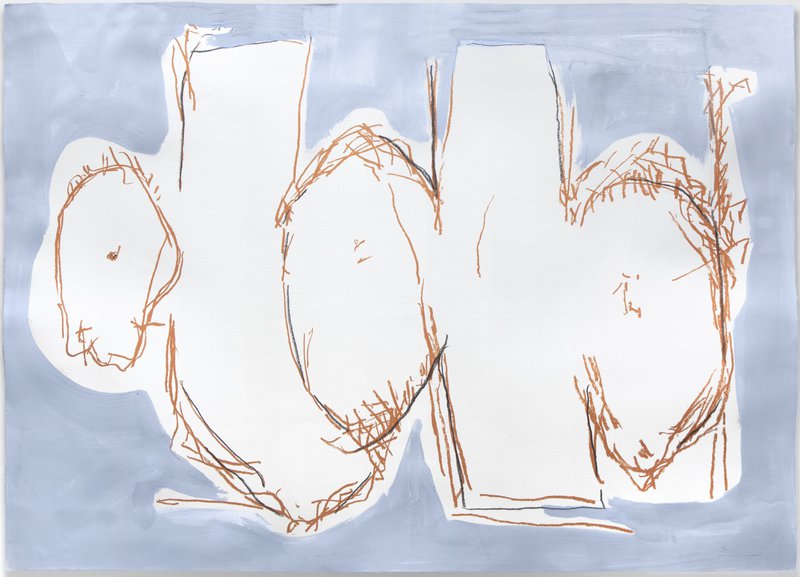 Robert Motherwell (American, 1915–1991)
Elegy Sketch, State I, 1990
Lithograph with hand-painted additions on paper, working proof, 37 x 51 in.
Private Collection, New York, courtesy Kasmin Gallery
© 2023 Dedalus Foundation, Inc. / Licensed by Artists Rights Society (ARS), NY
Programs: 
Art Adventures: Print Making
Dates: November 11, 2023 and November 12, 2023
Time: 1:00 pm–3:00 pm
Audience: Families/Intergenerational (5 and up)
Cost: Free with admission