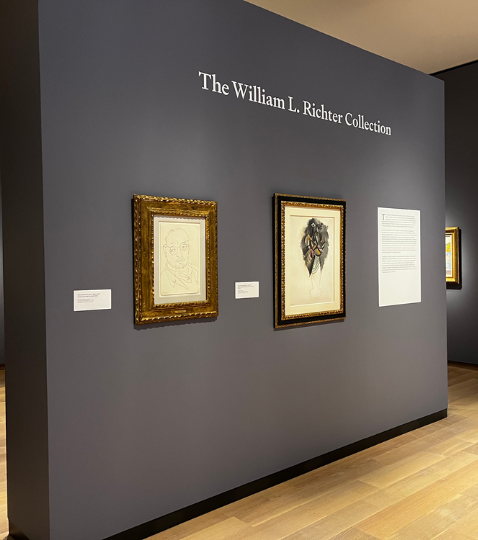 The William L. Richter Collection
April 2, 2023–April 21, 2024, The William L. Richter Gallery
This installation celebrates the extraordinary collection of Greenwich resident William L. Richter.
This installation celebrates the extraordinary collection of Greenwich resident William L. Richter. Featuring a selection of French art from the nineteenth and early twentieth centuries, it traces social connections and lineages among a core group of artists, from Jean-Baptiste-Camille Corot, Camille Pissarro, and Paul Gauguin to Pablo Picasso and Henri Matisse. This spirit of artistic exchange between mentors and mentees, collaborators and rivals is vividly expressed throughout the works on view.
Among the highlights are two promised gifts to the Bruce Museum. Picasso's bold innovations in form crystallize in the early still life Bouquet of Flowers (1909–10). With its fractured, prismatic shapes and muted colors, Picasso's gouache hints at the revolutionary beginnings of Cubism, anticipating the artist's radical experimentation of the ensuing decades. Matisse's Self-Portrait (1944), on the other hand, represents the near culmination of the artist's career. This pen-and-ink drawing suggests an economy of means and visual panache typical of Matisse's late style, while also revealing how the artist carefully crafted his own self-image. The two artists, and sometime competitors, met in 1906 and shared a mutual admiration of Paul Cézanne that informed a decades-long creative dialogue. Together, these landmark gifts bookend the Richter collection, anchoring the trajectory of European modernism in the twentieth century.
Elsewhere in this gallery, artworks by Gustave Caillebotte, Mary Cassatt, Cézanne, Alberto Giacometti, Paul Klee, André Masson, and Joan Miró, also selected from private Greenwich collections, represent an array of styles and subjects. Spanning the years between 1833 and 1957, the works on view exemplify the brilliant color and exuberant brushwork of the Impressionists and Post-Impressionists as well as the enigmatic symbolism of the Surrealists. Displayed in thematic groupings that include landscapes, the human figure, and pure abstraction, these works illuminate shared pictorial approaches and broader spheres of influence across the modernist era.
Community Day: Summer Block Party
Dates: June 10, 2023 and June 11, 2023
Time: 10:00 AM–5:00 PM
Audience: All
Cost: Free
Teens @ Bruce
Date: June 24, 2023
Time: 5:00 PM–8:00 PM
Audience: Teens
Cost: Free
Description: Teens @ Bruce is a Museum-wide event that is exclusively for teens that includes hands on activities, performances, and more.
Art Adventures: Self-Portraits
Dates: July 8, 2023 and July 9, 2023
Time: 1:00 PM–3:00 PM
Audience: Families/Intergenerational (5 and up)
Cost: Free with admission
Description: A drop-in program designed for children aged 5 and up and their families. In this program, participants will have the opportunity to craft fun and creative works of art inspired by the Museum's collections and exhibitions. This program is free with general admission and no advance registration is required.