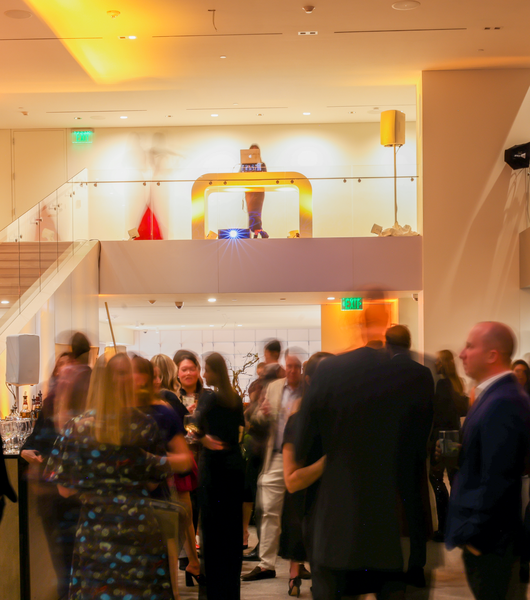 Museum Rentals
Host Your Private Event ​at the New Bruce ​
Learn • Explore • Celebrate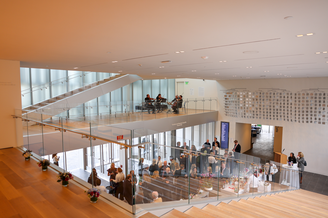 Grand Hall
The Grand Hall is nestled between the cafe and Museum Store, just inside the Museum's vestibule entrance. It has direct access to the Auditorium and a full view of the Museum's new Light Court. The Grand Hall is often used for pre- and/or post-receptions in combination with an Auditorium event. The Grand Hall can accommodate up to 180 guests and will be used for reception-style or events​.
The Grand Hall Rental
Reception: 180 guests​
Seated Program: 180 guests​
Availability: When the Museum is closed to the public​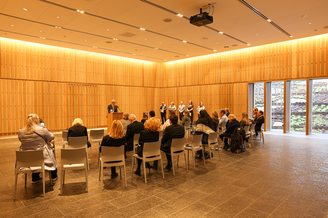 Auditorium Rental
This elegant event space is located adjacent to the Grand Hall, Light Court and Café .  Equipped with built-in, state-of-the-art audio-visual equipment including an overhead presentation projector with large drop-down screen, ceiling speakers, video cameras on both sides of the space for recording and live streaming, dimmable overhead lighting, and blackout shades. The Auditorium has beautiful views of the Light Court and can accommodate 250 guests for a reception or up to 140 people for a banquet-style event.
Auditorium Rental
Reception: 250 guests​
Seated Lunch/Dinner: 140​
Seated Program: 200 guests​
Availability: Daytime and Evenings​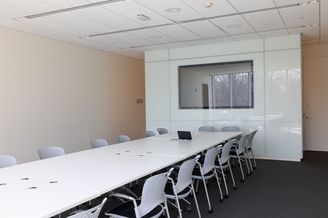 Conference Room
The Museum's Conference Room is located on the second floor and features state-of-the-art audio-visual equipment and a view of Bruce Park through beautiful floor to ceiling windows. The Conference Room has a small kitchenette and its own private restroom. A perfect space for a small private luncheon or small corporate community event. ​
*The conference room serves as a green room  for corporate events  or preparation suite for Bruce Weddings ​
Conference Room Rentals ​
Reception: 50 guests​
Seated Lunch/Dinner: 35​
Seated Program: 50​
Availability: Daytime and Evenings​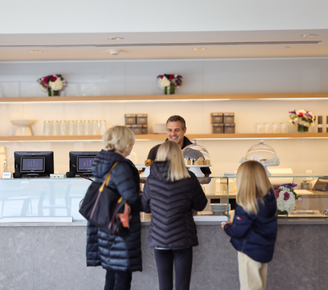 Café
The Café is a sophisticated space that is perfect for intimate gatherings. The Café  can accommodate 50 for a seated event and 100 for a standing reception. In addition to the artfully designed indoor space, the Café also boasts a beautiful terrace overlooking Bruce Park. The pati can accommodate 20 guests seated and 40 guests for cocktails. ​
Café Rentals
Reception: 100 guests (40 outside)​
Seated Lunch/Dinner: 50 (20 outside)​
Seated Program: 70​
Availability: Monday's and Evenings​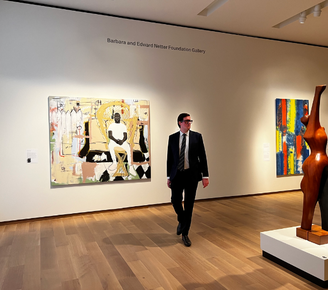 Galleries
The Gallery exhibitions can be added to your event for one hour.  Galleries can be used for lectures, private docents tours or to enhance any private or corporate events.   ​
Please note: Gallery selections are subject to availability and approval. Additional charges may apply depending on the specific event requirements. Food and beverages are not allowed in any gallery space.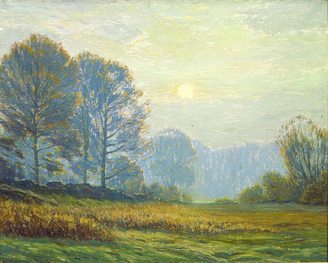 Included in Your Bruce Museum Rental
Depending on venue selection:  6 hours (3 hours for event, 2 hours for setup and 1 hour for  breakdown) ​
On-Site Event Manager ​
Sound system throughout the first floor (various plug-in points for both wireless and handheld microphones)​
Three large wall-mounted monitors available for event use in the Grand Hall ​
One large wall-mounted monitor available for event use in the Café ​
The Auditorium is equipped with an overhead presentation projector with large drop-down screen and ceiling speakers. The space also has video cameras on both sides of the room to record and live stream a lecture or conference. Dimmable ceiling lights and double shades on the window to block out light are included in the rental. ​
Technician for basic audio-visual equipment operation (If additional A/V equipment is needed or if the Bruce tech cannot support the client's request, the client will be responsible for hiring a Bruce-approved outside A/V firm.) ​
Building Maintenance ​
Building Security ​
Complimentary Parking ​