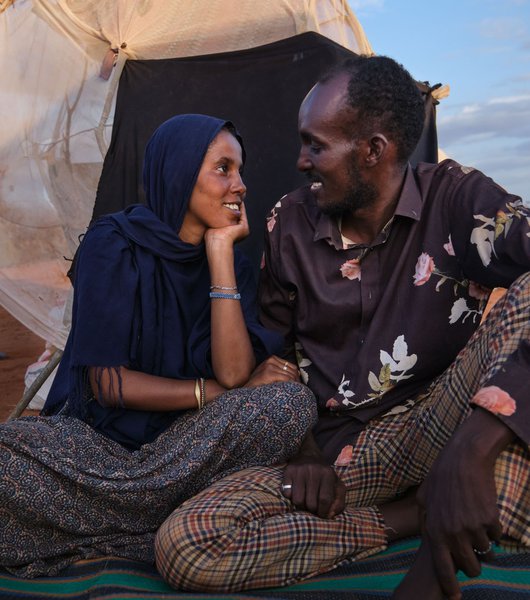 Bruce Presents: Listening to the Yibir, a Film Screening and Q&A with Justin Fornal
Thursday, August 10, 2023, 6:00-7:30 pm
The Bruce Museum is pleased to collaborate with the History, Arts, & Science Action Network (HASAN) for an advanced preview screening of the film Listening to the Yibir, a groundbreaking documentary following a young Somali couple on the run. The film explores the centuries-long oppression and stereotypes faced by the Yibir Clan, shedding light on their untold stories in their own words, through a captivating journey exploring the rich and complex culture of Somalia.
Married couple Hanad and Mumtas are hiding out in a camp for internally displaced peoples to avoid being murdered by Mumtas's family. The reason? The husband and wife are from different castes: Mumtas was born into the elite Isaac Clan and her husband Hanad, a member of the Yibir Clan.  For centuries, the Yibir people have endured systematic oppression both within Somalia and throughout the Somali diaspora abroad. They have been burdened by various stereotypes, ranging from being labeled as pagan sorcerers and witches to being considered the offspring of evil spirits. Yet, intriguingly, some accounts even suggest they may be part of the lost tribe of ancient Israel. In a groundbreaking documentary titled "Listening to the Yibir," the veil of myths and origins surrounding this community is lifted as the film sets out on a mission to unravel these age-old misconceptions. Remarkably, this documentary stands as the very first of its kind, providing the Yibir people with a platform to share their own stories, finally breaking free from historical assumptions and colonial-era narratives.
Filmed on location in Somalia, Somaliland, and Ethiopia; join filmmakers Justin Fornal, Kaif Jama, Luc Hardy, Neil Brandvold and Ismael Salad Osman as we follow Hanad and Mumtas's powerful love story all the while getting deep access to one of one of the world's great ancient cultures.
There will be a short lecture and audience Q&A session with Justin Fornal after the screening.
About Justin Fornal:
Justin Fornal is the co-founder of the History, Arts, & Science Action Network (HASAN) 501(c)3.  His organization focuses on preserving vanishing cultural traditions in crisis zones around the world. Justin has led research expeditions in Ethiopia, Yemen, Haiti, Guyana, Uganda, Greenland, Liberia, Somalia and a large host of other countries.
Justin works as the host and researcher for UNEXPLAINED AND UNEXPLORED, a documentary series airing on the Discovery Channel and the Science Channel. Justin's written work has been published by National Geographic, Explorers Journal, Atlas Obscura, VICE, Adventure Journal and  Parts Unknown. 
Support for Bruce Presents is generously provided by Berkley One, a Berkley Company.